Playground Swings
Swings are traditional playground equipment that never fail to exhilarate a child. Ensure that you purchase a swing that is suitable for your age group as younger children will require the extra support offered by a cradle seat (baby swing seat). For older children, a basic rubber seat is sufficient.
To maintain a safe environment for the children, it is important to install the correct surface underneath all playground equipment. If a child falls off the swing, he may be bruised but the surface should be soft and absorb enough of the impact so that no major injury is caused. Read our information on playground surfaces to choose the best solution for your school.
We do not recommend the use of tyre seats (recycled car tyres) or knotted ropes. The safest type of seats available for playground swings including plastic, solid rubber and flexible rubber as depicted below. These seats can be supported by rope or a metal chain.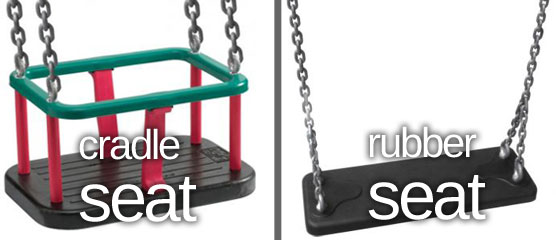 Swing designs are available to accomodate between one and six children on traditional seats or cradle seats. Cantilever swings are also available for 360° motion as shown here: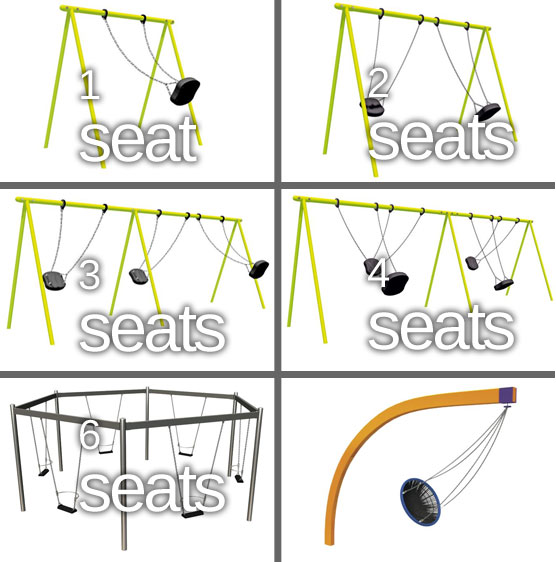 Playground Equipment Suppliers
Playground equipment and soft play flooring by As Good As Grass includes a full supply and installation service for your school.
Timberline provide commercial and educational play equipment including tower systems with slides, swings and climbing walls.
SMP Playgrounds supply swings, slides and other playground equipment for early learning and children of all ages.