Playground Slides

Playground slides are an excellent feature for any school playground. Install a height suitable for your children's age group as nursery slides are an excellent way to encourage young children to be adventurous while older children will gain more enjoyment from a full size playground slide.
To maintain a safe environment in your school or nursery, it is important to install a safety surface underneath the playground equipment. If a child falls off the slide, he may be bruised but the surface should be soft to absorb enough of the impact so that no major injury is caused. Choose the best solution for your children by considering our information on playground surfaces.
Adventure Playground Systems
Playground slides are available as traditional solo slides or as part of an adventure playground system. To bring variety and life to your school playground, the slide systems are an excellent choice and great value for money in comparison to buying all the play equipment seperately.

Adventure Playground Systems
In addition to the essential slide, an adventure playground system can include climbing nets, towers, bridges, firemans pole and monkey bars. Here are some playground equipment designs ranging from basic slides to complex adventure playground systems: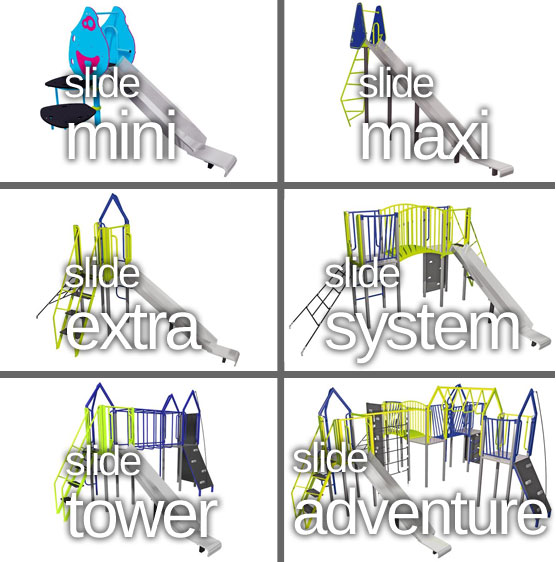 Adventure Playground Suppliers
Playground equipment and soft play flooring by As Good As Grass includes a full supply and installation service for your school.
Timberline supply adventure playground equipment including tower systems with slides, swings and climbing walls.
SMP Playgrounds offer swings, slides and other adventure play equipment suitable for schools, nurseries, parks and municipalities.